I am very excited to list my Liebster Award nominees for 2018.
Therefore without further ado:
Pencil Paws– I hope you are prepared to be seriously blown away by the magnificent artwork depicted in this site.
Life and Physics– This site will educate you until your mind is numb. It is a series of highly formulated posts that will undoubtedly help you stay informed about astrophysics, climate change and SO much more!
The Wonders of Wildlife– Is a fantastic site focused on educational information about our worlds wildlife. Why is this so important? Because without this knowledge, they can easily be forgotten.
Aquatic Veterinary– Is a site authored by a marine veterinarian. The content on this site is not only informational but highly useful. If you have fish, you will want to see these posts and ESPECIALLY if you're living in California.
Warriors of the Heart– This site is truly inspirational. The posts are simple yet packed with tremendous motivational value. Please visit this site if you need a daily 'pick-me-up.'
Society for the Saving of Endangered Animals– Gives us profiles of endangered species but not only that, the creator of the site also provides us with resource links on how to help
GeekWire– is a super busy tech site where you can find out way more than just information about gadgetry. If you want to stay up-to-date on today's tech, this is where you want to be.
The Biotechnology Times– Is a site created by an ingenious young mind that provides the world with biotech news. You don't have to be savvy in biotechnology to understand these articles either, simply knowing what is happening in this subject is mind-blowing in it's own right.
THANK YOU TO ALL of my nominees for such fantastic content, keep writing!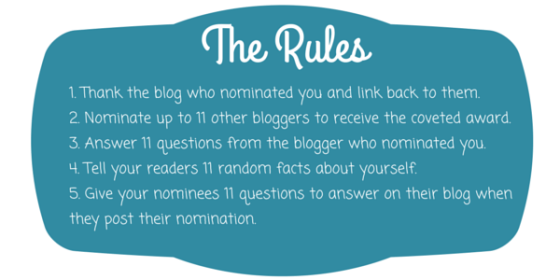 Nominees, here are your questions- to be answered and posted on your site. Congrats!:
If you could go back in time and meet someone from history; who would it be?
What was your favorite toy as a child?
If you could build any invention; what would it be?
What is your favorite planet in our Solar System?
What is the funniest thing you have ever seen?
What is the best thing that has ever happened to you by accident?
Name 3 things you want to see happen for human kind and our world in the future.
 What was your favorite animal as a child?
What did you want to be growing up?
What are your Top 5 Favorite Movies?
Who has been an inspirational figure in your life and why?
Keep in mind, you do not have to answer ANY questions if you do not feel comfortable.
Congratulations to all and I look forward to reading more of your amazing posts!