"Odors have a power of persuasion stronger than that of words, appearances, emotions, or will. The persuasive power of an odor cannot be fended off, it enters into us like breath into our lungs, it fills us up, imbues us totally. There is no remedy for it."

– Patrick Suskind
The Wolf is the king of the canine world. Believed to be the grandfather of all of today's dog breeds. The wolf is a finely tuned instrument for survival, that brings melody to the chorus of the earth. One of the reasons wolves are able to stay alive, maintain a community structure, and adapt to sudden changes in their environment, is their sharp sense of smell. A wolf is able to smell its prey from 1.75 miles away, and with such precision in their ability to smell; how could any domestic dog compare to it?
As brilliant as the wolf is in detecting scent, one breed of domestic dog may very well be superior; the Bloodhound.
The earliest record of Bloodhounds date back to the 3rd century a.d., making the Bloodhound breed just about as old as Christianity.
A large but docile breed, the Bloodhound's ability to trail a scent is extremely reliable. So reliable in fact, that any evidence a trained hound presents, can be accepted into a court of law in the United States.
In the early 1900's, one notable Bloodhound named Nick Carter, was once able to pick up a scent trail over 105 hours (approx. 4 days) old. Did the trail Nick picked up lead to the criminal? Yes it did. Another amazing Bloodhound was credited for over 600 criminal convictions. Not only can a Bloodhound find a scent that is older than tomorrow night's dinner leftovers, they can also follow a scent trail for miles. Over 130 miles to be exact.

What makes these dogs such amazing aroma warriors? The Bloodhound has 300 Million scent receptors, which is more than any other domestic dog breed.
Canines are able to perceive scent so easily due to their greater capacity to detect and store scent information.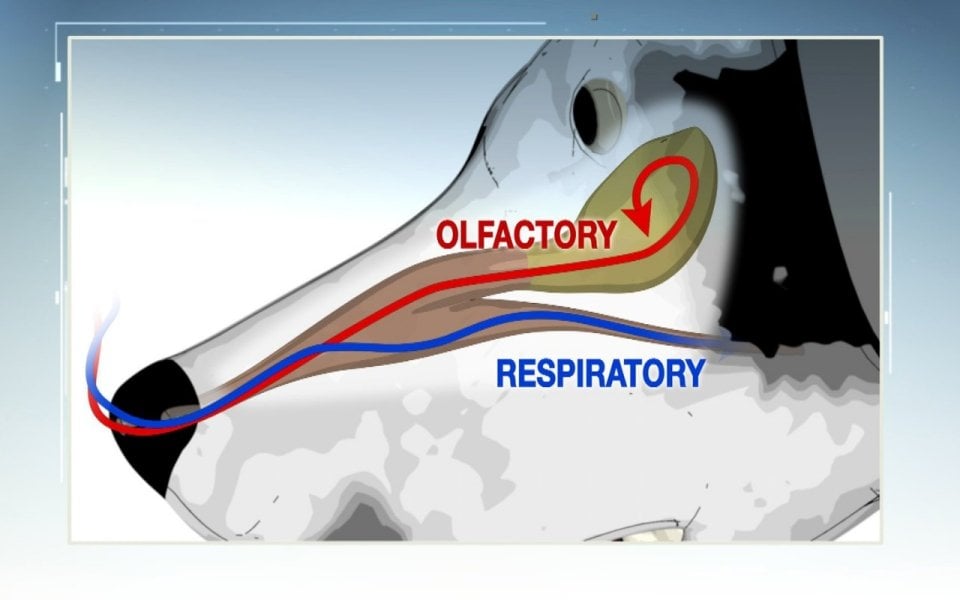 Scents can paint an incredibly vivid picture for Wolves and Dogs. A quick sniff of a patch of grass can tell the animal very specific details of identity, if the scent is of a male or female, friend or foe, how long ago the animal was there, and even if the animal was sick or injured.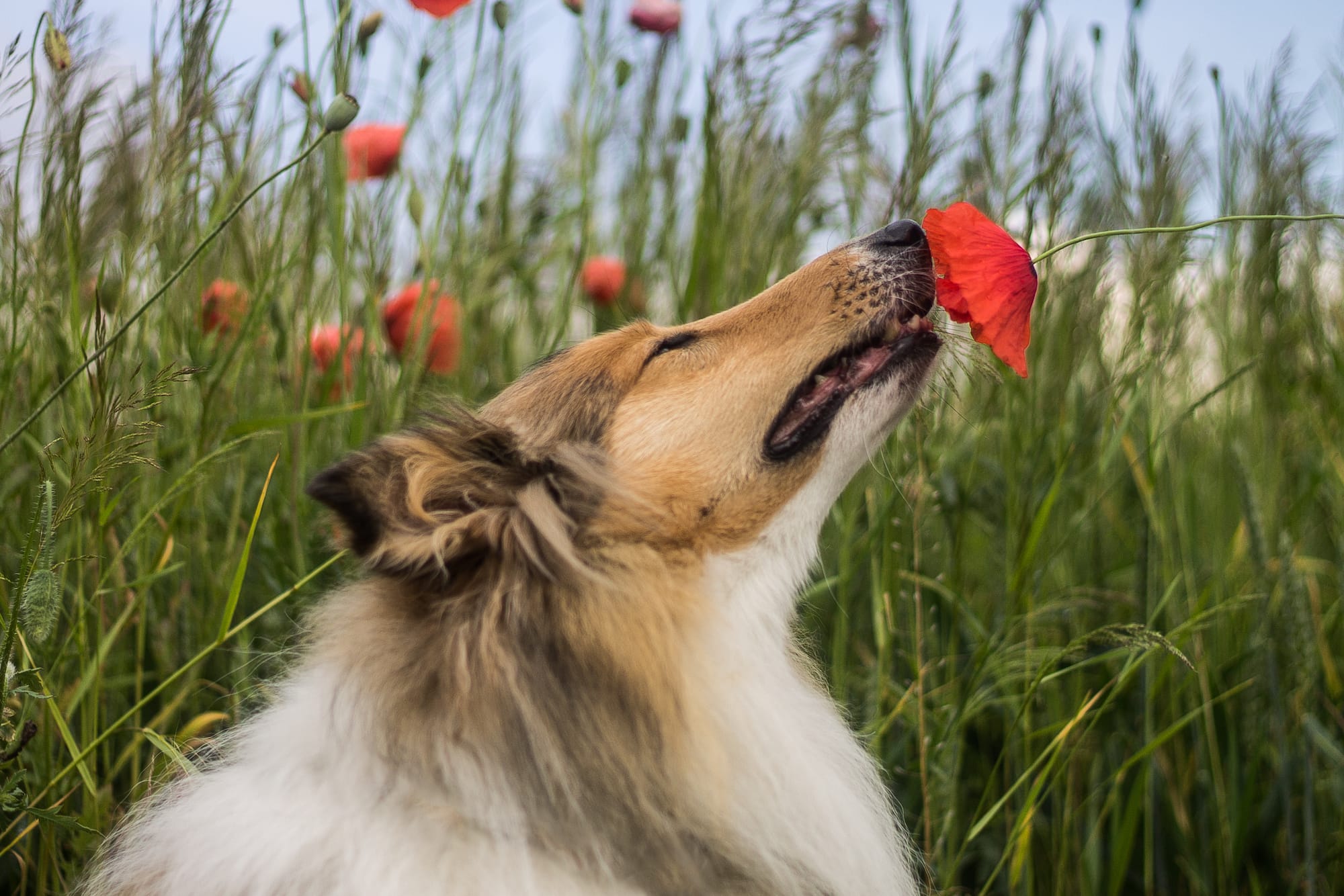 Scent from mammals can be picked up via sweat, which can be excreted from an animals paws, body, and even ears. An animals anus, genitals, and mouth, are also areas that excrete personalized smells.

Specific chemicals and molecules are released from an animal's sweat, urine, blood, saliva, and even hair; which give personal identification to an exact individual identity. Canines are able track an animal even in the snow, due to an animals ability to release sweat through its paws.
Not only are dogs and wolves able to perceive smells more descriptively than a human beings, but they also dedicate a larger portion of their minds to cataloguing and storing the information that these smells provide. The region of the brain that is committed to scent is 40 times larger in the Canine brain than in the Human's.
Canines also posses an organ that humans do not. An organ called, the Jacobson's Organ. Which is located at the bottom of the dogs nasal passages. This organ is used for detecting pheromones, which are another type of chemical particle that is designed specifically for communication between animals of the same species.
The long, pointy muzzle of the Wolf helps to channel scent for a longer period of time as it makes its way to the animal's receptors. The long, floppy ears and wrinkly skin of the Bloodhound help funnel and trap any scent that may escape the nose.
But which canine earns the title of Scent Champion? Who has the better sniffer? The Wolf or the Bloodhound?
Although animals can be naturally amazing and continue to surprise us with behaviors and acts that wag their finger at nay-sayers; Science provides us with the fact that, Bloodhounds, having 300 Million scent receptors, are superior than a Wolf's, who has only 280 Million receptors. However close these numbers are, the Bloodhound comes in for the win on who has the best Canine sniffer.